PARTICIPATE IN AN UPCOMING BOOTCAMP!
Dansville Central Schools, New York
July 21, 2017 | 8:00-3:00
This bootcamp is open to all, but there are special benefits for NY educators, provided by the State BOE
For Group Purchases outside of New York, contact susan@thinglink.com
---
FAMU, Tallahassee, Florida
August 1, 2017 | 8:00-3:00
For Group Purchases contact susan@thinglink.com
---
Bellwood-Antis Schools
August 8, 2017 | 8:00-3:00
For Group Purchases contact susan@thinglink.com
---
St. Pius X Regional Schools Virtual Reality in Education Bootcamp
August 10, 2017 | 8:00-3:00
Purchase single ticket
For Group Purchases contact

susan@thinglink.com
---
BOOTCAMP LOGISTICS
Tickets: $175, includes a full year of the Thinglink EDU Premium with 360/VR editor + 6 hours of training & support.
Facilitators: Susan Oxnevad, Director of ThingLink Education, and the ThingLink Certified Educator Team.
Full-day Bootcamps provide 6 hours of in person training and collaboration.

Blended Learning option provides 3 hours of online training + 3 hours on site
Host schools receive 5 Premium Teacher accounts in exchange for offering a training space with good wifi. Minimum registration requirement is 20 participants, from your own school or from neighboring districts. Contact susan@thinglink to learn more and get started
BOOTCAMP OVERVIEW
This bootcamp teaches you to capture the world in 360 photos and use them to compile immersive multimedia stories, engaging your students like never before.
Translate a 360 photo into an interactive 360/VR lesson

Understand key practices for annotating 360 images with text, photos, audio, and video

Embed Google Forms, maps and other 3rd party tools in 360 photos

Design student driven learning activities that promote higher-order thinking skills.

Contact susan@thinglink.com to bring a Bootcamp to your school.
In the morning, participants learn to design lessons that combine the power of ThingLink's 360 photo editor with Google Apps and other popular 3rd party tools. We will take a look at ways to redesign classroom instructional time to embrace the common core with 360/VR experiences.

The focus of the afternoon will be on creating and publishing a curriculum-aligned activity for use with students. We'll take a look at tools and resources for content capture, including 360 cameras and apps. With plenty of time dedicated to applying the learning, participants will walk away with a 360/VR lesson to use in the classroom the next day.
AGENDA
Welcome and Introductions

Overview - What is interactive 360/VR?

The benefits of interactive 360/VR in the classroom, a pedagogical approach

Hands-on: Try it! Add tags to a 360 image

Lunch on your own

Tools and resources to capture content: 360 cameras and more

Hands-on Guided Learning: Create your own virtual lesson with support using ThingLink's 360 editor

Publish and share
Contact susan@thinglink.com to bring a Bootcamp to your school.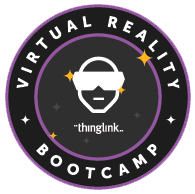 Sign up below to learn about upcoming events in your region, or to schedule a VR in Education bootcamp for your district.