NEXT BOOTCAMP
Date & Time
Location
Facilitators
Reserve Your Spot

3/7/17
8:00-3:00

Blue Valley Schools, KS
700 W 143rd St,
Overland Park, KS 66223.
Conference Room C

Susan Oxnevad & Jodie Johnston

Register
Contact susan@thinglink.com to bring a Bootcamp to your school.
BRING A BOOTCAMP TO YOUR BACKYARD
Host schools receive 5 Premium Teacher accounts in exchange for offering a training space with good wifi.
Minimum registration requirement is 20 participants, from your own school or from neighboring districts.
Contact susan@thinglink to learn more and get started.
BOOTCAMP LOGISTICS
Tickets: $175, includes a full year of the Thinglink EDU Premium with 360/VR editor + 6 hours of training & support.
Facilitators: Susan Oxnevad, Director of ThingLink Education, and the ThingLink Certified Educator Team.
Full-day Bootcamps provide 6 hours of in person training and collaboration.

Blended Learning option provides 3 hours of online training + 3 hours on site
BOOTCAMP OVERVIEW
This bootcamp teaches you to capture the world in 360 photos and use them to compile immersive multimedia stories, engaging your students like never before.
Translate a 360 photo into an interactive 360/VR lesson

Understand key practices for annotating 360 images with text, photos, audio, and video

Embed Google Forms, maps and other 3rd party tools in 360 photos

Design student driven learning activities that promote higher-order thinking skills.

Contact susan@thinglink.com to bring a Bootcamp to your school.
In the morning, participants learn to design lessons that combine the power of ThingLink's 360 photo editor with Google Apps and other popular 3rd party tools. We will take a look at ways to redesign classroom instructional time to embrace the common core with 360/VR experiences.

The focus of the afternoon will be on creating and publishing a curriculum-aligned activity for use with students. We'll take a look at tools and resources for content capture, including 360 cameras and apps. With plenty of time dedicated to applying the learning, participants will walk away with a 360/VR lesson to use in the classroom the next day.
AGENDA
Welcome and Introductions

Overview - What is interactive 360/VR?

The benefits of interactive 360/VR in the classroom, a pedagogical approach

Hands-on: Try it! Add tags to a 360 image

Lunch on your own

Tools and resources to capture content: 360 cameras and more

Hands-on Guided Learning: Create your own virtual lesson with support using ThingLink's 360 editor

Publish and share
---
GREAT WAYS TO FIND & CREATE 360 IMAGES FOR THINGLINK 360/VR
Are you wondering where to find 360 images to create ThingLink Interactive virtual reality field trips, lessons and learning experiences? We hope you will join us to explore
The new library of high quality 360 images available through ThingLink's new Teleport 360 App.
A repository of CC-licensed images for use in schools .
How to remix an existing ThingLink and reuse the 360 image.
How to use a handful of apps to find and create 360 images.
How to take 360 images on your phone.
How

to resize images for use with our 360 image editor

How to display attribution on a ThingLink 360.
Join us in learning about Great Ways to Find & Create 360 Images for ThingLink 360/VR and learn with us!
---
THINGLINKBOOTCAMP LIVE: INTERACTIVE 360/VR IMAGE SLAM
We're inviting all Bootcamp participants to join us in a celebration of the learning that has resulted from participation in Bootcamps. Grab the screen for 5 minutes and share a VR image you've created. Perfect for those who are considering becoming a ThingLink Certified Educator and well-suited for those who need inspiration. Join us for this casual and fun sharing event! An invitation to present will be sent to those who register via GoToWebinar.
-->Register for

ThingLink Bootcamp Live

Interactive 360/VR Image Slam

on March

20, 2017 live @ 7:00 PM EST

or on-demand
---
Celebrate the ThingLink 360 Breakout Challenge!
Celebrate and collect the Interactive, multimedia-rich Digital Breakout activities created by participants in the ThingLink 360 Breakout Challenge. Learn with us...

What is the ThingLink 360 Breakout Challenge?
Breakout EDU is taking education by storm! Think of the concept of an Escape Room but modified for education. Students will experience how to work as a team, think critically and problem-solve various challenges applied to any grade level or content area. This challenge was designed to help educators learn to use ThingLink 360/VR plus more digital tools to create and share a Digital Breakout activity.
---
GREAT WAYS TO USE INTERACTIVE VIRTUAL REALITY IN THE CLASSROOM
Enjoy a 30-minute overview demonstrating the possibilities for teaching and learning with interactive virtual reality across all content areas and grade levels. Participants will learn how to turn 360 images into engaging student-driven learning experiences using ThingLink's 360 photo editor.
We'll look at ways to integrate the tools through the lens of the SAMR model of tech integration, by Dr. Ruben Puentedura. This will help educators make the most of using ThingLink 360/VR at each level. This session promises to be bursting with enthusiasm and packed with pedagogy to help educators learn, share, and create 360/VR Lessons.
---
PAST BOOTCAMPS
2/3/16 -Brighton MI with John Sowosh
242 Community Church
7526 Grand River Ave, Brighton, MI 48114
12/9/16 - Clemson University with Dr. Stephen Moysey
Clemson, SC 29634


12/1/16- Mid-Pacific Institute with Brian Grantham
11/18/16 - University of Central Missouri with Melody Niesen
Warrensburg, MO 64093, USA
Murray County Schools with Adrienne Ellis
Kearsarge Middle School with Laurie Prewandowski
Chino Valley Adult School with Susan Gaer


Contact susan@thinglink.com to bring a Bootcamp to your school.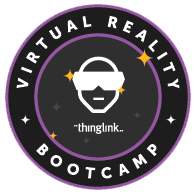 Sign up below to learn about upcoming events in your region, or to schedule a VR in Education bootcamp for your district.